Welcome to my very first blog and website! I feel so blessed to be able to share my natural healing journey with all of you. With this first post I would like to share a little about myself, and how my healing journey led me to opening The New Hippie Shop.   
My name is Tammie Hale and I'm a 45 year old wife, mother, and grandmother. I was born and raised in beautiful Summerville, South Carolina. On my journey I've also lived in Kansas and Ohio, but have settled into the quiet little country town of Bonneau, South Carolina for now.   
When I was a teenager, my parents started taking in foster children. It was sad seeing all the need within that system and all those hurting kids. I had always felt I was here on earth to help people and to provide healing, but had no idea how I was supposed to do that. My experience living with foster children along with my own childhood and youth issues led to me to study sociology and psychology in college. I received my bachelor's in psychology in 1995 from Charleston Southern University.   
Over the years, I have worked with both adults and children in the mental health field, from the severely mentally disabled to those having just some mild issues, in many different settings. I found that I was always getting frustrated with both the 'system' and the clients themselves. My list of frustrations with the 'system' is a post all in itself. My frustrations with the clients stemmed from the fact that they didn't seem to want real help, while I had always tried to fix my own issues. My issues were actually part of the reason for me getting my degree in psychology; I wanted to help heal myself.   
So, here I am giving up time with my children to be working in this field to help people and I see that most of them don't really want to find healing in the end which was very frustrating for me. It's like they were stuck in this unhealthy life cycle, but were too comfortable in it to make changes. We'd given them great advice, tools, and skills to help them heal and change things in their lives, but they would just come up with reasons and excuses for why they couldn't do them. What I found is that most wanted us to either leave them to their misery, fix it for them, or give them a magic pill to make it all better. But, that's just not how true healing works. I might not have found my own complete healing yet at that point, but I knew that it came from within yourself and that it's something that you have to want and take an active role in bringing about. No matter which road you choose, you have to actively put the work in to reach that healing. Modern medicine and psychology can help, but it's not a "cure all". You have to do the internal healing work for yourself.  
I've dealt with depression and anxiety for most of my life stemming from personal experiences as well as my family history of mental illnesses. For many years I tried being my own counselor, working with my counselor friends, and medication. This did help somewhat, but not completely. I also found that the depression and anxiety medications caused me to feel very numb and to have a very blunted affect. I didn't like going through life in that fog, but it was better than the emotional roller coaster and misery of the depression and anxiety. 
My oldest daughter deals with depression and anxiety as well. She was learning about crystals and their natural healing abilities and sharing it with me. This rekindled my love of crystals and stones. I had always felt drawn to them and loved them, but never really understood them. I grew up in the "bible belt" in a devout Christian home, and to think that anything but the biblical God could heal you was not accepted. It was considered un-Christian. So, I had never allowed myself to even consider alternative natural healing methods like crystals and meditation.   
The more we learned about the healing effects that crystals have, the more tumbled stones and crystals we bought and used. Then we thought that we'd love to wear them instead of just sticking them in our pockets, so we started making our own jewelry for whatever need we had. We got lots of compliments on the stuff we made from friends and family, so we decided to start selling them. We started The New Hippie Shop on Etsy to share our natural healing crystal and stone jewelry pieces, and for me to sell the paintings and up-cycled bottle lamps I had started making as well.   
I've been actively seeking my emotional healing throughout my adult life and was so glad to find the natural healing of crystals. One of my running jokes now is that I don't leave my house unless I'm all "stoned up!" When my daughter introduced me to reiki, another natural energy healing method, I was a bit hesitant about it because of my Christian beliefs. But, I decided to take a chance and learn about it. At this time, my father was dying from cancer and I wanted to be able to do something more for him as well as for myself. Once my daughter and I started taking the classes together with our Reiki Master, Jenni, of the Charleston  Reiki & Well Be-ing Center, I learned that it's just God's healing  energy and I got more comfortable with it. Unfortunately, it was my father's time to go home to God so the Reiki wasn't for him. However, it has really helped me and my family on our healing journey. I also use it to cleanse all of the pieces I sell before shipping them out to whomever purchased them, which has turned out to be a real blessing.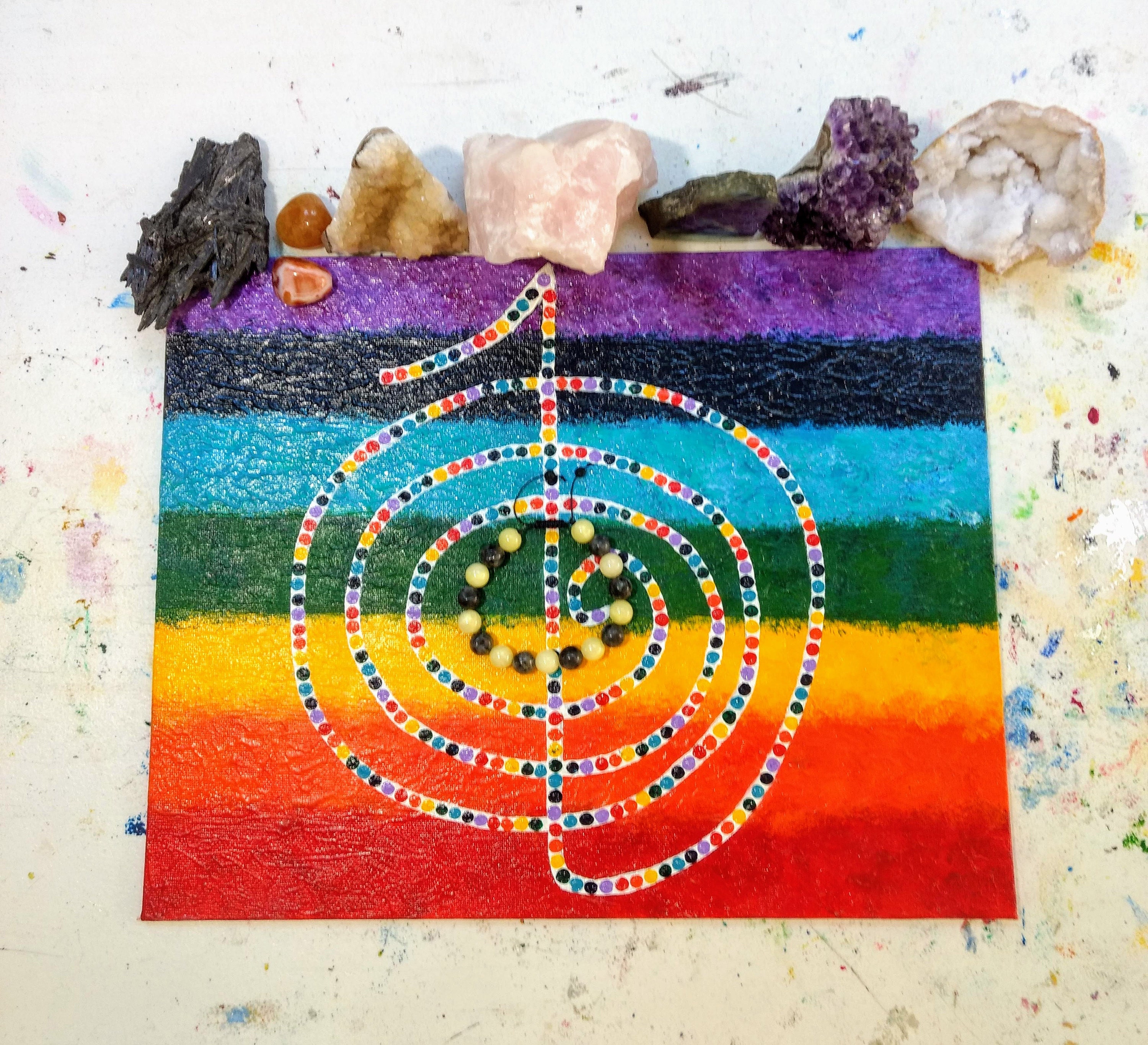 Over the past ten years or so I've been on a really personal, spiritual, emotional, enlightening, and healing journey. I've had a lot of big life changing things happen in my life during this time that have led me to find my healing. I've researched and read so much about many different things that I felt led to look into that ended up bringing me healing. I've learned about jewelry making, painting, natural healing, essential oils, crystals, Reiki, energy healing, meditation, chakras, other religions, aliens, past lives, grounding, yoga, channeling, guides, hearing from spirit, and more. You see, I'm an empath, and I've seen and heard spirits my whole life. Of course, with my upbringing I was afraid that I would go straight to hell if I actively tried to do anything with my gifts. What I've learned is that God gave me these gifts to help myself and others. That I'm not supposed to use these gifts to get all the answers for the future, but to help guide me and others through this life on Earth. I am blessed to be a blessing.     
I have grown and learned so much over the years. I've healed in so many ways. I've been off of my depression and anxiety medication for almost three years; I actually came off of them while my dad was sick. After reading about all the things that cause cancer and how bad a lot of prescription medications are for you when I was researching stuff to help my dad, I just couldn't continue to use them. I am proud to be able to say that I am dealing with my issues with natural healing methods now. I use crystals, essential oils, natural herbal things, reiki, meditation, and prayer to help myself now. I won't say that all of my problems are gone, I've just learned how to deal with them in healthier ways.   
Another thing that helps me to relax, center, and find myself is painting. I never thought of myself as an artist because I never could draw. In January of 2017, I took a few painting classes at Michael's taught by Brenda Craven to help me be able to better paint my up-cycled bottle lamps. I realized I really enjoyed it, and that I was much better at it than I ever imagined I could be. So, I looked up online free tutorials to continue to teach myself. I found online tutorials from Cinnamon Cooney (The Art Sherpa), Ginger Cook, and Angela Anderson and I've been blossoming into an artist ever since. I would really love to give a big thank you to Cinnamon, Ginger, and Angela for so selflessly giving of yourselves so that people like me can learn to paint! Now my friends and family are always saying that that they never knew I could paint. I just say, "Neither did I!" So, never think you are too old to learn something new. I am now combining my love of painting with my love of crystals by combining them in my artwork. I really enjoyed exploring the addition of crystals into my paintings in the chakra series that I've just completed. They will be available in my shop in the coming weeks but you can check them out on my Facebook and Instagram pages now if you'd like.   

All of this growing, learning, and healing led us to open The New Hippie Shop to share the healing crystals we love with others. Plus, I get to share my art work which is a great bonus. A few months after starting our shop, my daughter realized that she had too much on her plate to really be able to help with the business. It was a tough decision for us, but we decided that it was best for me, her, and the business for her to step down from being partner for the time being. She is on her own healing and learning journey and is busy being a single mom, working full-time, being a full-time business student, and maintaining her own blog called The Amani Hippie. I am very proud of her. I am also very thankful to have her to ask art, crystal, and all things weird type questions whenever I need to.   
Now that I have opened the shop and started the social media pages for it, I really wanted to write more about healing and the things I've learned on my healing and self-discovery journey. However, I've read that you shouldn't do long posts on social media so I've refrained myself. I've thought about doing a blog to share, but just didn't know anything about them and wasn't sure how well it would do. I would wonder, "Would people really want to hear what little ol' me has to say? Can I really share information that will help others?" Well, God and my guides have led me to believe that I should start this blog to share my healing journey and the things I have learned and will learn along the way. So, here I am teaching myself something new yet again! I've always loved writing, but haven't done anything with it since writing poems as a teenager and the writing I had to do in college. Please stick with me on this journey as I learn, practice, and get better at this writing-a-blog thing. 
My intention with this blog is to share all kinds of things that have to do with natural and energy healing, mental health, crystals, spiritual growth, and things that I've learned on my personal healing and self-discovery journey. My sincere prayer is that by me sharing my personal healing and enlightenment journey that I help other folks to find their way along their healing journey. I don't have a plan to write a set amount of posts per week or month at this time, I just plan to write when I feel led to share something. This was just a brief glimpse of my journey, so you never know what I'll feel led to write about and share next!  
Thank you so much for taking the time to read about my journey, I look forward to sharing more with you in the future. Please follow me on Instagram, Facebook, Pinterest, and/or Etsy to stay up to date on new listings and posts. God bless!